Cops in the community and cops in crisis, an old lady in a state of confusion and a young woman in the depths of depression, a dangerous online game and a modern civil war, some unexpected male bonding and a much-loved local culinary institution, as the City of Manchester speaks.
Join us from 6pm at Eagle Labs, Albert Square on March 23d…
Or for a repeat screening at The Old Bank, 437 Wilmslow Road, Withington at 6:15pm on March 28th.
Tickets £5/£4 (concessions).
A BIT OF THIS & A BIT OF THAT (UK Premiere)
Dir:  Jake Gill, Elizabeth Ratcliffe, Liam Steers, Alexander Deniston
UK, 2018, 7 min 52 sec, Cert PG
Hidden away amongst the backstreets of Manchester's vibrant Northern Quarter lies This & That, a small Indian café owned by Ismail Mallu, a first-generation Indian migrant who came to the UK in 1966…
NOT THE PC: LITTERING
Dir / Wri / Prod: Ed Edwards, Wri / Prod / Cast: Eve Steele
UK, 2019, 7 min 56 sec, Cert 15
A Police Community Support Officer meets her son's new girlfriend. It doesn't end well for the next petty criminal she and her over zealous crime fighting partner meet. We're talking pepper spray.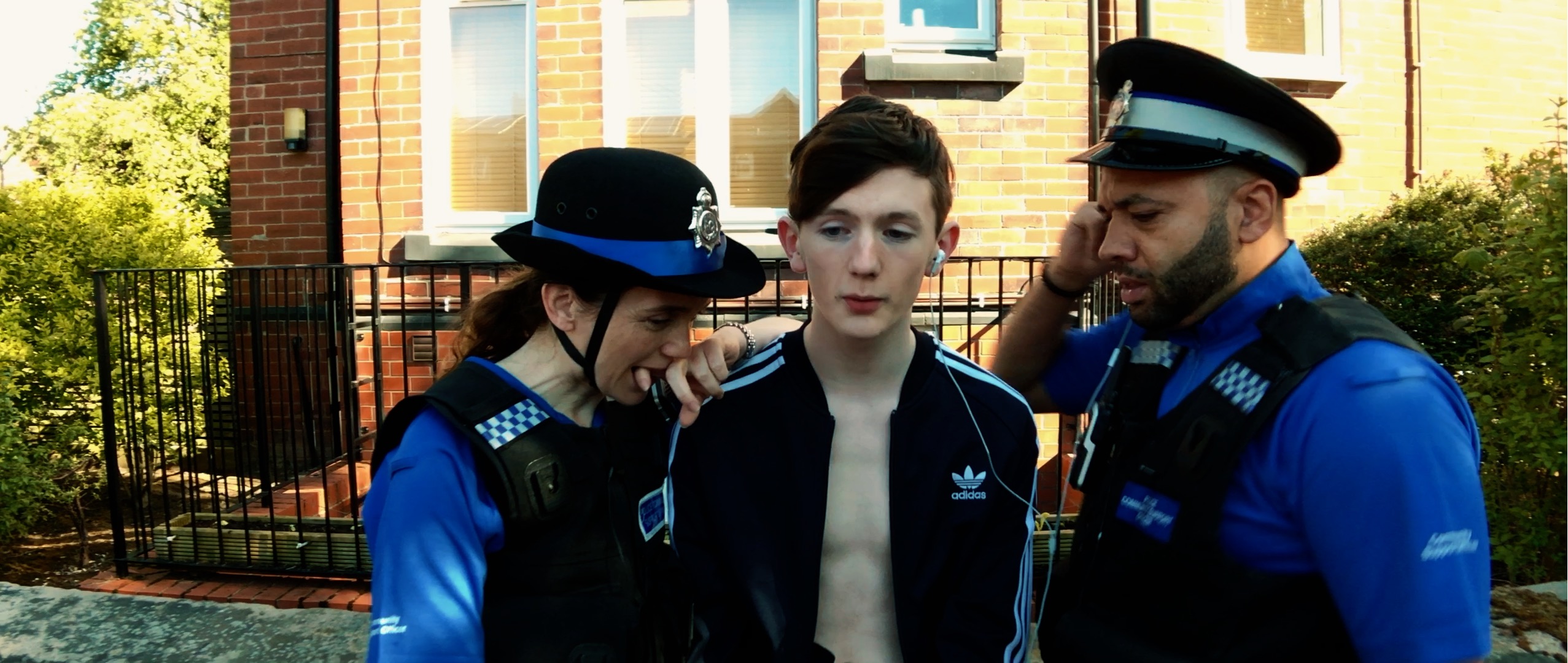 ABOUT TIME, TOO: IVY'S STORY (Greater Manchester Premiere)
Dir: Iain Cash, Wri / Prod: Ian McLoughlin MBKS
UK, 2019, 13 min 10 sec, Cert 12A
Meet octogenarian ex-nurse Ivy Lodge on the day she travels to her new home and, en route, learn something about her past, her present and a future that promises to be not all she imagines.
RECOURSE (UK Premiere)
Dir: Ash Tidball, Wri: Keith Lewis
UK, 2017, 8 min 30 sec, Cert 15
Officer Saren has always believed in the law. Now he will test it.
FELLAZ (Greater Manchester Premiere)
Dir / Prod: Paul Blinkhorn, Wri / Prod: Alexandra Keelan, Prod: Hannah Ellis Ryan
UK, 2018, 11 min 09 sec, Cert 12A
Two men lay the past to rest, wrestle with some clippers and come to understand that men like to look good too.
ALPHA  (World Premiere)
Dir / Wri / Prod: Amy Beedle, Wri / Prod: Martina Majcen
(UK, 2019, 8 min 45 sec, Cert 15 (FFF Rating)
A shy girl desperately tries to make friends and naively joins a dangerous online challenge. Can she outwit the game or will she have to see it through till the bitter end?
NIGHTRUNNING (Greater Manchester Premiere)
Dir / Wri / Prod: Antony Morris, Prod: Lewis Faithfull, Alex Moore, Joel Porter, Cast: Bethany Suthers
UK, 2019, 9 min 04 sec, Cert 15
Rebecca is chastised by her older sister on the night their father dies. Consumed by a quiet guilt and the sense she needs to grow up, she is unable to sleep for days.
STRAGGLERS (Greater Manchester Premiere)
Dir / Wri / Prod: Steven Hutchinson, Prod: Paul Blinkhorn, Alex Walker, Cast: Christine Walsh, Tom Charnock, Izzy Hussain Lexi Brennard
UK, 20 min
During a modern civil war in the United Kingdom, a small group of refugees, nicknamed 'stragglers' journey across the country to escape the war led by Howell, a frustrated and bitter people smuggler.
86 min 26 sec.