Wednesday 8th NOVEMBER, KINOFILM Festival presents KINO SHORTS 74
Doors open at 6.30pm, programme apx 7.00pm (please be early to guarantee your seat)
Kinofilm is pleased to announce the next event in our autumn season of KINO SHORTS Northwest Short Film showcase and networking event, taking place WED 8th Novemberr. We will once again be back at our favourite venue, Mini Cine located at Ducie Street Warehouse.
Kino Shorts is a programme of new short films from mainly local and North West filmmakers. The event will take place in two sections each followed by Q&A's with the directors of the films featured in each section. There will be allocated times for networking and drinks at the bar during the intermission and after the show and will be the perfect opportunity to meet with the filmmakers directly to discuss the films and explore opportunities for future collaborations. A limited number of tickets are now available. Purchase soon to guarantee your place.
This month's Q & A sessions  will be hosted by Jeremiah Quinn Director / Producer/Writer and Film Production lecturer at Salford University whose award winning film OLUWALE was screened at Kinofilm Festival last November. 
KINO SHORTS 72 PROGRAMME DETAILS  – OCTOBER 2023.
LIMITED TICKETS ON SALE FROM FRIDAY 20TH OCTOBER AT 18.00  SOLD OUT
FULL PROGRAMME DETAILS BELOW
PRETTY HANDS
Dir: Senyo Mortty, Pro: Christien Bart-Gittens, Wri: Taiyo Yoshida, UK, 2023, 9:34 mins
After recently moving to a seaside town, a single mother's mental state derails as she becomes increasingly convinced that someone is trying to steal her baby.
TOO FAR
Dir / Wri: Giles Gough, Pro: Samantha Fisher/Kay Walker, UK, 2022, 7 mins
An intimate picture is leaked online and the pressure it creates is too much for the couple at the heart of it.
THE ESTATE
Dir / Pro / Wri: Alexander Bay, UK, 2023, 17 mins
Jack Brome tries to rebuild his life after time in prison by working for a wealthy family on a large Estate.
SHOWING AROUND LAPLAND MUSHROOM
Dir / Pro / Wri: Richard Howe, UK, 2023, 8:30 mins
A stop motion animation with 2 characters: a biped cat and their owner. The film is in the style of a VHS instructional film and centres around humans who may experience low mood at Christmas.
BENCHMARK
Dir / Pro / Wri: Tom Woffenden, Co-Pro: Chris Mitchell, UK, 2022, 4 mins
A 3 minute feel good film set on a park bench.
SANDSTONE AND CONCRETE (Super 8 Film)
Pro: Jeremiah Quinn / Wri: Stephen Pilling, UK, 2023, 4 mins
A sepia hewed lament on Bolton through the architecture at its centre, offering a different view on the town through the eyes of a native Boltonian. A snapshot of where we were, are now and where we are going.
Q&A'S THEN INTERMISSION AND NETWORKING BREAK – FOLLOWED BY PART 2
CRIMINAL MASTERMINDS
Dir: Jake Greaves, Pro: Adam Cowell, Wri: Faye Greenwood, UK, 2022, 7:50 mins
A failing heist crew returns from a botched mission with one of their members dead. Through an audition process they must work their way through countless incompetent criminals until they find their new member.
TOMBOY
Dir / Pro / Wri: Nicole Evans, UK, 2023, 4:30 mins
A young mother rediscovers her past and unfulfilled dreams; a short film dedicated to the unsung everyday heroes and pioneers of women's football.
ANGEL MEADOW: THE FORGOTTEN GENESIS
Dir / Pro / Wri: Jacob Cato, Co-Pro: Nico Deacon, UK, 2023, 7:49 mins
A Student Documentary that questions the importance of Mancunian history and how society will remember and forget significant historical events.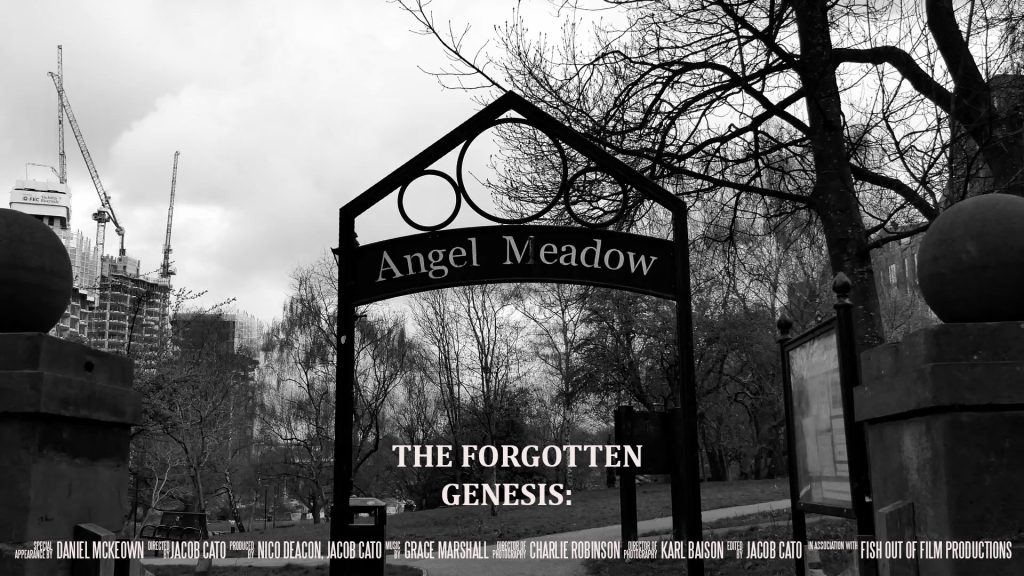 DEAR VLADIMIR
Dir / Pro / Wri: Jeremiah Quinn / Co-Wri: Val Lukianets, UK, 2023, 6:39 mins
A day in the life of a Ukrainian refugee, she leaves her room, cycles to dance class and posts a letter. Valeria narrates a letter to Putin, describes leaving the chaos of the war, and settling in Manchester.
11:11
Dir / Pro / Wri: Gavin Pettifor, Co-Wri: Jonathan Finlay, UK, 2023, 9:40 mins
Man struggling with ongoing mental illness finds himself battling to find a solution to his unrelenting condition.
RAISING PUURFECT HUMANS (Animation)
Dir / Pro / Anim: Samantha Harpur, DOP/Ed: Patrick Farrell, UK, 2022, 2:09 min
A stop motion animation with 2 characters: a biped cat and their owner. The film is in the style of a VHS instructional film and centres around humans who may experience low mood at Christmas.
WHY WORRY
Dir / Wri: Paul Chambers, Pro: Bernardo Angeletti, Co-Wri: Sam Batley, UK 2023, 7 min
Why Worry – A super short film about a man's visit to a Chinese Chippy.
TRT" 95:00 followed by Q&A's