With over 1000 films submitted and some really high quality shorts from around the world it was an incredibly hard task to make this year's selection, and we have some really great shorts on show this year for your enjoyment. We have almost 300 short films, 2 features and 45 screenings over 9 days. We have a fantastic line up and its a big thanks to all the filmmakers that submitted their films this year. Congratulations to those selected and condolences to those whose films where not accepted on this occasion.
Festival Passes. if you have a film in the festival you will be eligible for  Festival Passes, the delegate forms will be on line soon, check back next week. Please note only two festival passes per film, priority goes to Director / Producer / Writer and applications must come from the director or producer or contact us first if you are representing the film as the director / producer is not available. Any other requests please contact us at 'info AT Kinoflim.org.uk'
Regarding hotels, at this moment we have had no luck in negotiating a deal with local hotels because of the time of year, it's very difficult. But there are lots of hotels in Manchester from all the main chains and there are still deals to get if you are quick, such as our favourite being the boutique hotel chain Motel One who have two hotels in central Manchester with rooms with static prices of £69 and it's a real cool modern hotel. (recommended), still some cheap rooms available if you are quick…You can also try Ibis (Portland Street), Holiday Inn (several sites and Jurys Hotel (Portland Street). There are several budget hotels  such as The Gardens Hotel and Britannia Hotel (Piccadilly – both with rooms from £55) ,Travelodge – Manchester Piccadilly – with rooms from £50), Easy Hotel (rooms from £32 depends on the night), but 
We searched the Campanile Hotel group and there are rooms available on some nights for £45. 15 -20 mins walk to our main venue on Chester Road.
If you are on budget, remember the back packer hostels such as YHA Manchester (Castlefield), Hatters Manchester / Hatters Hilton Chambers (both central Manchester).
It may also be worth checking out the many apartments style accommodations such as Stay City Apartments who have prices from £65.
Venues news. This year we are using the fabulously historic Nia Centre in Hulme, now known as Niamos. Most famously known as the BBC Playhouse in the 50s and 60s and before that the Grand Junction Picture House (originally the Hulme Hippodrome). This wonderful iconic building in Hulme will be the main festival venue this year and returning to film presentation for the first time in nearly 70 years. We will be using the original auditorium featuring the wonderful and original proscenium arch, original circle cinema seating, and we'll be installing a big screen to show your films on. We will also have a second screen on the upper floor conference room, as sadly we cannot fit all our 40 plus programmes on one screen.
Additionally, for our third screen we'll be building a small 30 seat pop up cinema in GOODSTOCK – a fabulous charity fashion store on Oxford Road operated by V-Inspired, and managed by the delightful Katie Mason. Here will be the Festival Hub information desk open every day from 12noon  Mon 26th Nov – Sat 1st Dec, where you can pick up Festival Passes, brochures and more information. We will have screenings at Goodstock every day from 4pm (6pm and 8pm). Outside these times visit us a the Nia Centre to get more information, tickets and passes (screenings 4, 6 and 8pm)..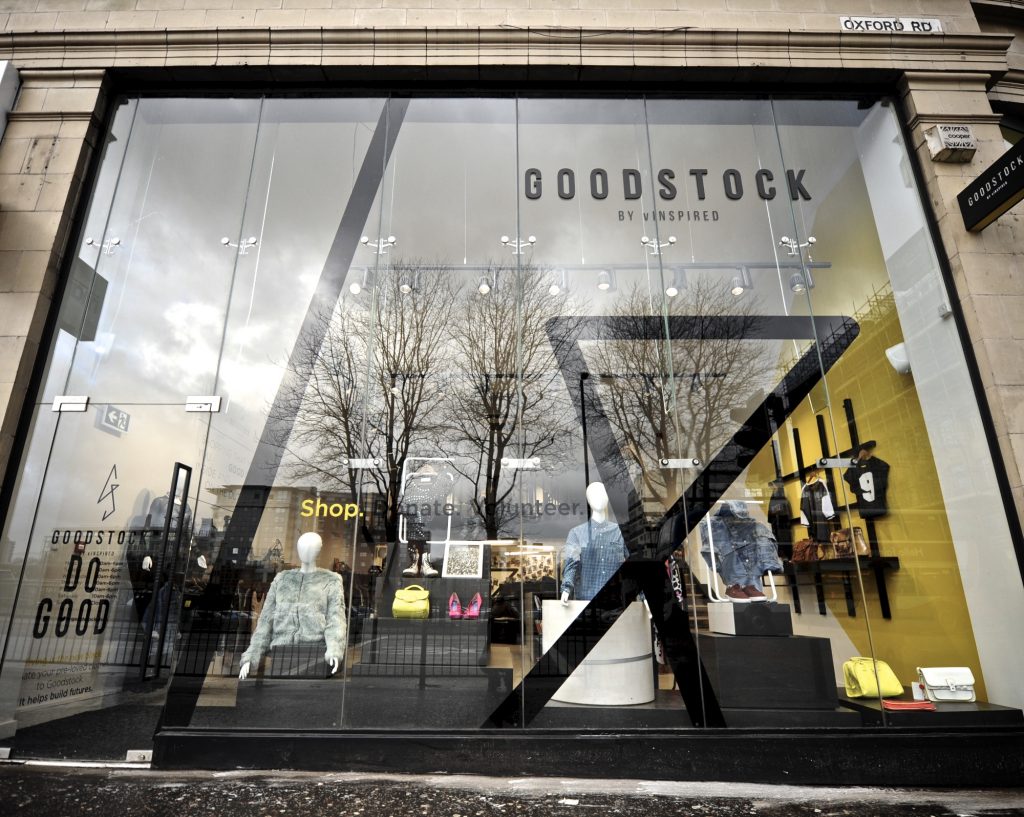 We will also be holding screenings of the Spanish Shorts and Italian Shorts programmes at the Instituto Cervantes on Deansgate with our partners Cervantes and Dante Alighieri and the French Shorts programme will take place at our partners Alliance Francaise building on Portland Street.
Tickets, standard ticket prices will be £5 / £4 (concessions), £3 at Goodstock. Screenings at Cervantes and Alliance Francaise will be free and should be booked in advance. Individual screening tickets will be on sale soon on Eventbrite  and festival passes are available now on Allevents ticket site. Passes for the 9 days are £50 (including the opening Gala on Sat 24th Nov, the Iranian Cinema day on Sun 25th and closing awards Gala on Sun 2nd. Passes for the 7 days (excluding the opening weekend, Opening Gala and Closing Gala are £35).
Ways you you can help us.
Jury Members, We are currently looking for jury members for this year's event. If you are a professional and have experience and knowledge of the short film format, or are a professional woking in any form of Media and Film education, or are a recognised actor, screen writer or other Arts practitioner, or you think you are qualified enough to be on our jury and make some really important decisions, watch lots of films and have time to spare, then drop a line to the Festival Director John Wojowski as soon as possible "johnw AT kinoflim.org.uk"
Volunteers. Do you have useful skills or film festival experience, or just eager to get involved in the Festival. If so we need your help now. So if you fancy volunteering on this year's festival or are even available now, please read out volunteers section, complete the form and we'll be in touch.
Support us now – last two few days . We have just launched a festival crowdfunder campaign to help raise essential funds to hire the equipment to fit out the Nia Centre to give the best projections we can. The building has just been handed over to the community after years of neglect and most recently used as a church. The building has no in house projection equipment or sound system and we need to raise funds to cover those costs now as we receive no public or arts funding,. As we rely on donations, goodwill and submission fees to cover an element of the costs, we need to raise about £3000 to cover our shortfall. The campaign is only just for 4 weeks and we don't have much time to raise the funds. You can help us to help the filmmaking community, please get involved, make a donation and share our campaign the best you can. You can see our campaign here on Indigogo. Please help support our campaign.
More announcements soon. Please check back regularly.