Farmers, hunters, sailors, goats. Train rides, boat rides, magic tricks. Memories that seem just like yesterday. Life-changing promises, checklists gone mad. Hilarious bodily functions, and selfies gone wild. You'll find the wacky ups and downs, all right here.   
ARTHUR AND THE SEAGULL
Dir/Prod: Luca Di Cecca
Italy, 2019, 5 min, Cert PG
Ninety-year-old Arthur is used to being alone and his days pass as a pensioner. One day a newspaper that advertises cameras comes into his hands. The seagull that he chose as a subject, however, seems to have a completely different idea about perfect photography.
THE MANDRAKE
Dir: Quincy William Baltes; Prod: Kate Jansen
US, 2020, 8 min, Cert PG
Herman, a farmer content to live out his life alone out in the woods, tends his garden day in and day out. He rarely gets visitors.  So when a witch approaches his cottage one day, asking for a special ingredient and supplying a spell, he is understandably shaken. He wakes up the next morning to the cries of a screaming baby, unaware that his life has taken an incredible turn.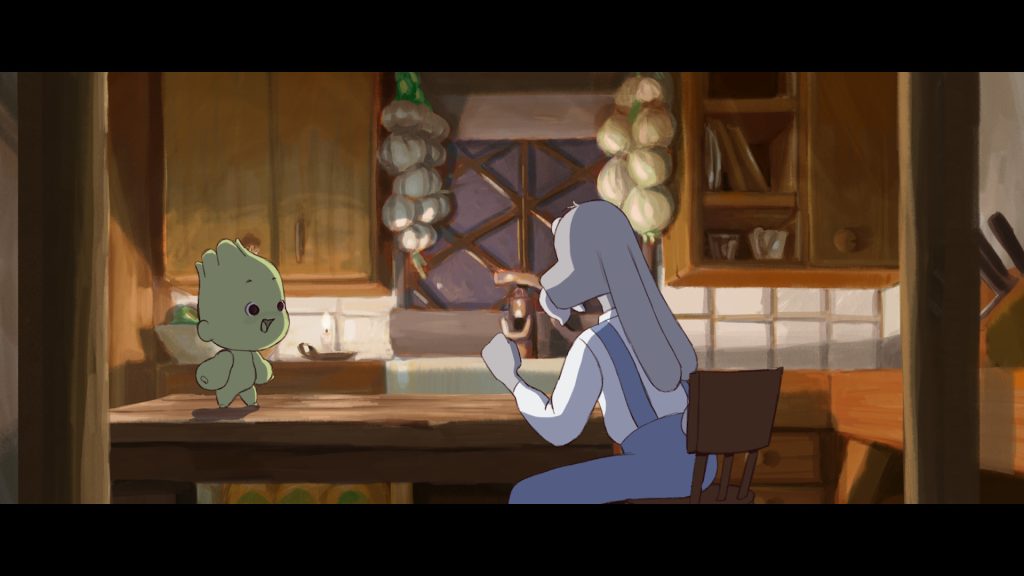 FINAL ACT
Dir: Miguel Amendola-Borrallo, Clara Obeidi, Yohan Gantelet, Lucie Krencker, Geoffrey Rakotoarisoa, Antonin Géral-Ariès; Prod: Ecole des nouvelles images
France, 2019, 7 min 29 sec, Cert PG
Cheetah season has arrived. André and Philip, two pals as valiant as they're bold, establish the ultimate hunting technique: Infiltrate the feline's territory disguised as animals.
NADIRAH: COAL WOMAN
Dir: Negar Elodie Behzadi & Kate Jessop; Prod: The VEM: Visual and Embodied Methodologies Network, King's College London
UK, 2019, 2 min 23 sec, Cert PG
In Kante, a small village in the Fann Mountains of Tajikistan, the work of the 19 women miners who go mining everyday in the illegal coal mines is considered shameful. 'Nadirah: coal woman' tells the story of one of the most stigmatised women miners in this village.
FLESH
Dir: Lisa Cruz; Prod: Anna Campbell
UK, 2019, 3 min 55 sec, Cert 12
A story about freedom, foxes and meat.
URBAN GOAT
Dir: Svetlana Razguliaeva; Prod: Nikolay Makovsky
Russia, 2020, 11 min 23 sec, Cert 12
In rural Siberia, where there is only an airfield and a disco in the village club of all the entertainment, the city goat arrives to work. In a small village, she immediately attracts the attention of men, but the Goat herself cannot take her eyes off the rude, but so-cute Wolf. Life with him in her imagination is seen in pink colours, but reality bites.
THE GREAT CORELLI
Dir: Abel Carbajal; Prod: Greta Díaz, Albert Aynés
Spain, 2019, 7 min 1 sec, Cert 12
The Great Corelli is a young and successful magician. But his career goes down when his best trick fails.
LEAF (LISTEK)
Dir: Aliona Baranova
Czech, 2020, 5 min 40 sec, Cert PG
A huge sailor receives a lovely autumn leaf from a little girl. It reminds him of his home.
THE PROMISE
Dir: Chi Thai
UK, 2020, 6 min 44 sec, Cert PG
A petty thief motivated by survival in a brutal world, gains hope when a chance mugging provides her with an opportunity to reconnect with nature – changing everything.
GRAND ADVENTURE RAILROAD
Dir: Hsiao-Shan Huang; Prod: Chien Po Huang
Taiwan, 2020, 14 min 59 sec, Cert PG
Grand Adventure Railroad Company offers the rich touring service to go sightseeing in slum communities. As the passengers are enjoying the meals, taking selfies and playing the amusement games, the touring train suddenly halts in a pitch black tunnel. The conductor tries to pacify the passengers, not knowing an uninvited creature quietly sneaks on board…
LET HER RIP
Dir: Micky Wozny
UK, 2020, 1 min 29 sec, Cert PG
A woman tries to hold it in.
SOMETHING BORROWED
Dir: Micky Wozny; Prod: Andrew St Maur
UK, 2020, 8 min 5 sec, Cert PG
Pen to paper, a sweet old woman (Jane Horrocks) can't find the right words. But when she lends her pen to a hopeless young chap (Jason Watkins) a whirlwind of a chase ensues. Struggling to reach him, she begins to realise it's more than just words that elude her.
TICK
Dir: Fabienne Priess & Levin Tamoj
Germany, 2019, 5 min 25 sec, Cert PG
Before burn-out has burned out it is a flame. And Jane is on fire. Her days consist of going to work and ticking off her never ending To- Do-Lists. She does not realize how the flame starts to consume her and how she loses sight of everything around her. Because when the flame has burned out, there is nothing left but the emptiness of it all.