A questionable anxiety therapy, secretive caretakers of an orphanage, a race to againce time to preserve the human species,  the nature of human to android  connection, and the pursuit of a dream underscore this selection of sci-fi tales. 
DO YOU LIKE POETRY
Dir: Eduardo Mattos, Wri: Valdir Medori, Prod: Ivan 13P, Eduardo Mattos
Brazil, 2020, 15 min, Cert 15
After starting a medical treatment to help with his anxiety, Roberto experiences unexpected and unusual results.
THE EPHEMERAL ORPHANAGE
Dir/Wri/Prod: Lisa Barcy
United States, 2020, 15, Cert 15
A group of tattered paper dolls daydream alternate realities and surreptitiously explore the hidden lives of their strict and secretive caregivers.
SYNCHRONISATION
Dir/Wri/Prod: Anna Kasińska, Prod: Joanna Ruta Baranowska
Poland, 2019, 19 min 54 sec, Cert 15
4 women, whose reproductive cycles have synchronised, host a dinner for the last male in the world in hopes of extracting his semen. Unfortunately, an incident occurs that requires creative measures.
Q: GHOSTLY REMOTE EFFECT
Dir: Marcus Hanisch, Wri: Marcus Hanisch, Anna-Lena Theobald, Ariana Berndl,  Prod: Melissa Dubrin, Sabine Schmidt
Germany, 2020, 19 min 43 sec, Cert 15
A meditation on the nature of existence related through the developing relationship between an android 'life form' and its scientist field companion.
L'ELMOSINA (THE HANDOUT)
Dir: Gianni De Blasi, Wri: Gianni De Blasi, , Francesco Niccolai,  Prod: Salvatore Carcuta
Italy, 2020, 16 min 30 sec, Cert 15
Laura, a lonely and wealthy woman, decides to leave her home in order to access the audition of the "L'Elelmosina" (The Handout) talent show.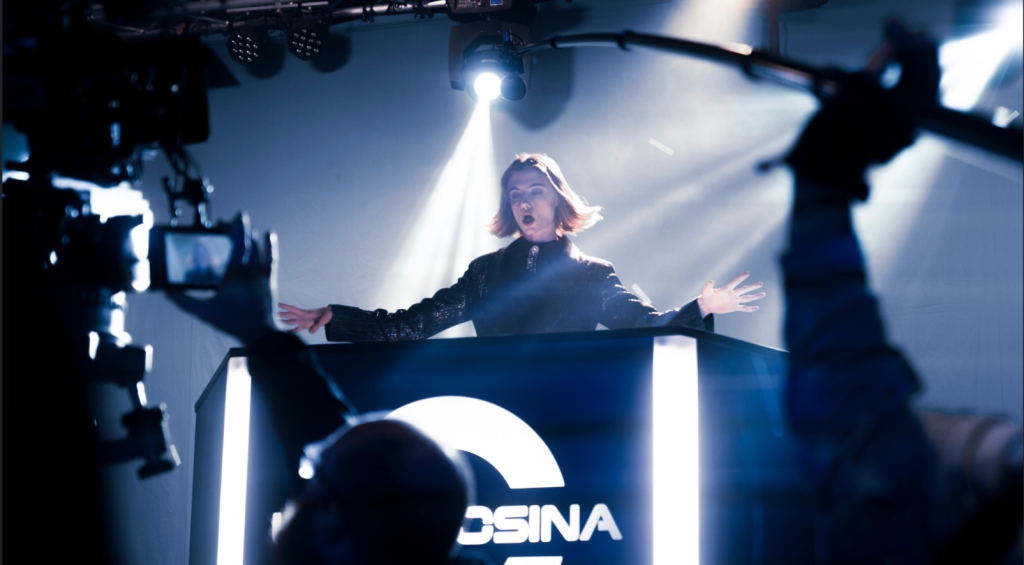 TRT: 86 min 07 sec