Kinofilm Festival is pleased to present our next event in the current season of  NorthWest filmmakers events. KINO SHORTS Edition 69 will take place at our new host Manchester venue, the Mini-Cini, based at Ducie Street Warehouse, with state of the art projection and reclining seats, a fantastic lounge area, bar and restaurant. Address is Ducie Street Warehouse, 51  Ducie Street, Manchester. M1 2TP 
About this event
Kinofilm Festival is pleased to announce the third of our new season of KINO SHORTS NorthWest filmmakers event in Manchester. The events take place bi-monthly at a brand new host Manchester venue, the Mini Cini based at Ducie Street Warehouse, with state of the art projection and reclining seats.
There will be Q&A's with the filmmakers interviewed by top Manchester actor and producer Christopher Faith and there will be time for networking during the mid programme break and after the event. The Venue has a bar lounge with a wide range of drinks and food available if you wish to eat before the event.
Address: Ducie Street Warehouse, 51 Ducie Street, Manchester. M1 2TP
TICKETS ARE £4.50 in advance (plus booking fee) AVAILABLE ONLY ON EVENTBRITE. Unsold tickets will be available from the venue on the night priced at £5.00.
Limited Availability so advisable to book in advance.
Programme Details.
PART 1
RESET
Dirs: Giles Gough/Philip J Coleman, Wri/Prod: Giles Gough, UK, 2020, 20 mins
What if the only person you could talk to, wasn't a person? Meet Remy, a young artist battling with depression and SAM, the digital AI programmed to repair him.
BREATHE
Dir/Wri/Prod: Rosie Adamson-Clark, UK, 2022, 4:19 mins
A woman has had a life time of breathing problems. It didn't deter her of her tomboy pursuits, she now finds herself in a hospice drawing her last breath. She reminisces and draws us into her journey.
WHEN IN DOUBT GET IT CHECKED OUT
Dir/Wri/Prod: Dennis Hanse, Co-Prod: Kevin McNeill. UK, 2022, 3:40 mins
A Prostate Cancer Awareness Film by Shooting Creatives. A black man mysteriously walks through the boggy marshland of Saddleworth Moors looking lost and confused.
THE FIRST WOMAN
Dir/Prod/Wri: David Turner, Co-Prod: Alex De Luca,  UK, 2022, 15 mins
Lily is an orphan with a terrible secret, she doesn't even know it herself, until her surrogate father shows his true colours and Lily's terrible nature is revealed in all its glory.
Live Q&A followed by a networking break at the bar.
Intermission
PART 2
CHOKE
Dir/Prod/Wri: Helen Lyons-Curran, Ex. Prod: Vincent Conwy & Jordan M. Royce, DOP: Jo Lane, Starring Vincent Conwy and Michael Birtwistle, UK, 2019, 6.29 mins 
Forced by an overbearing brother figure, young Lewis awaits his enemy. What unfolds will determine the kind of man he is to become.
SOUL CAMP
Dir / Prod / Wri: Patrick Hollis, 2021. 8:05mins. (Documentary)
Soul Camp – "A statement of resistance against modern society."
GUILTY CONSCIENCE
Dir: Emily May Frith, Prod: Esther Agbakwuru, Wri: Evan Dottridge  UK, 2022, 16 mins
Three prisoners are enrolled into an avant-garde rehabilitation scheme which will test their internal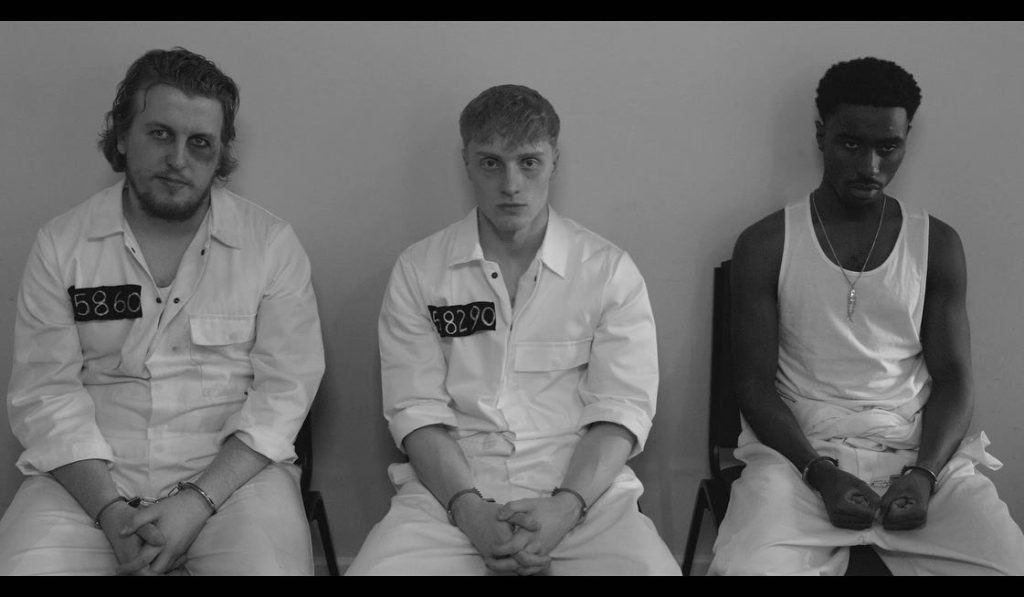 BELIAL
Dir/Prod/Wri: Mason McGlynn, Co-Prod: Mary Gilsenan,  UK, 2022, 12:07 mins
Short horror drama set in Greater Manchester following a couple trapped in a cycle of poverty, struggling to make ends meet and constantly resorting to pawning off goods to ensure they make it through the week.
Live Q&A followed by networking opportunities at the bar till 11pm