We've loving pastiches and rib-nudging parodies, soft-focus evocations and sharp recreations, picture-palace nostalgia and multiplex misery, wistful romance, deadpan comedy, and the healing power of film, in this celebration of the cinematic art.
Advisory Cert 15
Tuesday 27th Nov 8.30pm
Niamos Sc 1, Chichester Road, Warwick St, Manchester M15 5EU
LE CHAT DORE
Dir / Wri: Nata Moreno
Spain, 2017, 6 min
Inside an old cabin, a group of musicians try to create art under the pressure of a mean director.
THE MAN WITH THE BICYCLE
Dir / Prod / Wri / Cast: Levan Tsintsadze, Cast: Nana Kalatozi
Germany, 2017, 14 min 38 sec
The decidedy Nouvelle Vague thoughts of a man living in social isolation.
NOT MAKING EASY IS MOVIES
Dir / Wri / Cast: Johannes Bachmann, Prod: Zurich University of Arts  
Switzerland, 2017, 10 min 12 sec
Joggeli tries screening old film spools which leads to a nostalgic journey in the traces of his great-grandfather that bears astonishing resemblance to a film history and well-known black-and-white- comedian.
RENDEZVOUS
Dir: Eliza Godlewska, Alan Ruczynski Wri: Alan Ruczynski, Anna Cichosz, Cast: Agnieszka Koscielniak, Hubert Paszkiewicz
Poland, 2018, 12 min 34 sec, Cert 15
The problem with cinematic rendezvous is that they don't stand the clash with the real world.
A TICKET TO THE CINEMA
Dir / Wri: Agnieszka Wanicka
Poland, 2018, 8 min 14 sec
Tomek is a film buff who works as a cinema usher. One day, while he is seating people for an evening screening, he notices a mysterious girl.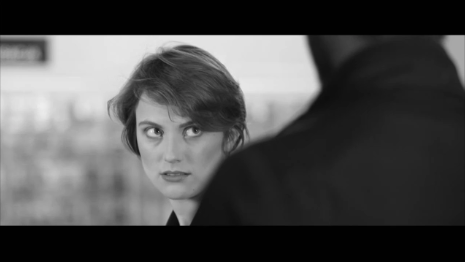 MINDF*#K
Dir / Co-Prod / Co-Wri: Sherill Turner, Co-Prod / Co-Wri / Cast: Louise Ann Munro, Cast: Cary Crankson
UK, 2018, 9 min 12 sec, Cert 15
Two cinema ushers share a mutual crush, but they are both too shy to do anything about it until they start hearing each other's thoughts – the good and the bad.
MULTIPLEX 10
Dir / Prod / Wri / Cast: Gordon McAlpin, Prod / Wri / Cast: Dana Luery Shaw, Prod: Amy Guth, Robert Hornak, Cast: Tom Brazelton, Aiyanna Wade
USA, 2018, 10 min 49 sec
Kurt is an usher, pining for that special someone to share his love of horror movies. Jason is a film snob who just needs a freakin' job, okay? Despite their differences, the pair will make fast friends — unless they kill each other first.
STAFF PICK
Dir: Cindy Di Xin, Prod: Eric Schwarz, Wri: Martin Aguilera, Cast: Felixe de Becker, Chris Senn  
USA, 2018, 10 min 25 sec
In 90's Brooklyn, Cora, a lonely girl in search of connection, discovers a movie rental store that delivers films based on how she feels. The movies lift her up and make her feel less alone but soon she wants more than the films, she wants to know the person behind the locked door of this strange store.
MASCARPONE 
Dir: Jonas Rierner / Prod: Johannea Schubert
Germany, 2018, 14 min, Cert PG
Francis, the dreamy film projectionist, accidentally crashes into the limousine of gangster boss Mascarpone. Suddenly he finds himself in a mobster film. When a heist goes wrong he has to rescue his dog and conquer the heart of the film diva Vivien.
TRT: 95 min 34 sec